What Are Some Benefits to Dredging ?
Dredging can remove various trash from waterways. This trash is usually in the form of non-biodegradable plastics which are unsightly and bad for the environment. As time goes by, the plastics will break down into microbeads, which can be ingested by fish and birds, adversely affecting the environment.
If your pond suffers from foul odors, dredging can also help mitigate the offensive smells. This will also help get rid of nuisance algae and weed outbreaks that can clog a waterway and make it look unsightly.
Other Benefits Include:
Cleaner water which helps maintain a flourishing ecosystem
Helps preserve local flora and fauna
Trash and muck removal
Minimize weed and algae issues
Keeps pond/lakes from becoming odorous
Maintains an aesthetically appealing look
Least destructive to a pond and its surrounding green space
Storm-water management
Increases the volume of water an area can hold
---
How We Dredge
The Dino6 Dredge sediment removal system allows us to perform jobs inaccessible to other equipment as it is small, portable, & powerful.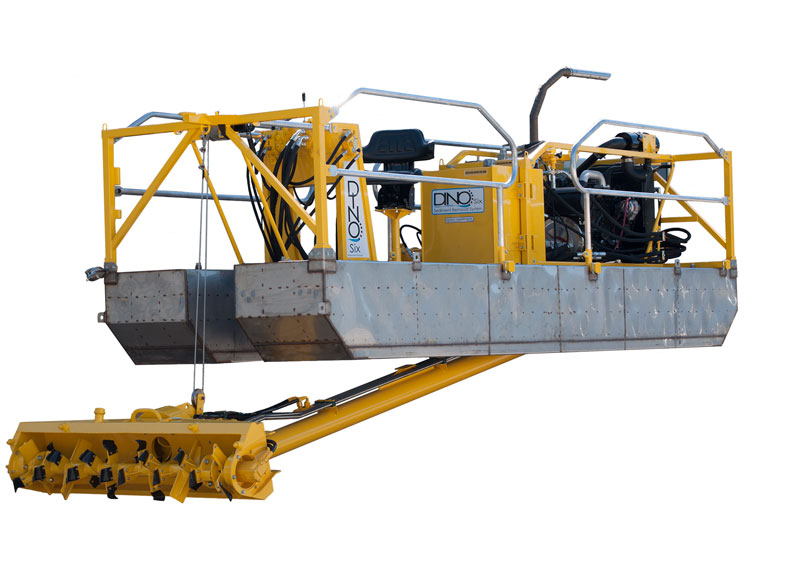 Cutter Suction Dredge
A cutter suction dredge (CSD) sucks dredged material through the intake pipe at one end and then pushes it out the discharge pipeline directly into the placement site. Since a CSD pumps directly to the placement site, it operates continuously and can be very cost-efficient. Most CSDs have a cutterhead on the suction end. A cutterhead is a mechanical device that has rotating blades or teeth to break up or loosen the bottom material so that it can be sucked through the dredge. Some cutter heads are rugged enough to break up rock for removal.
A CSD is able to work in a range of water depths and has the ability to dig its own flotation if the existing ground is very shallow or above water. It's very efficient in areas with thick shoals, where the cutterhead is buried in the bottom. Water pumped with the dredged material is generally contained in the sediment basin until the solids settle out. Once settled, the water is generally returned to the waterway and the sediment is removed.
---