Dredging is a process used to remove sediment buildup from the bottom, the sides and bank areas of ponds, lakes, and waterways. A specialized piece of equipment called a dredge creates a vacuum or suction that sucks up and pumps out the unwanted sediment and debris to a holding basin or dewatering bags.
How Do Ponds Fill up with Sediment?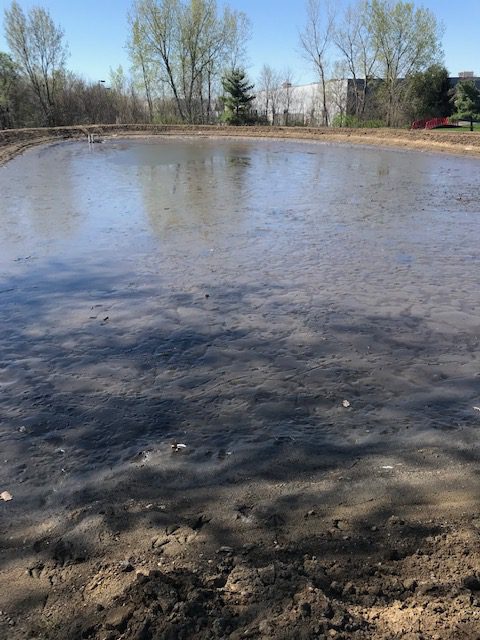 Man-made bodies of water such as golf courses, retention basins and HOA's ponds are continually trying to reclaim the land that is now underwater. Various biological processes can contribute and even speed up the land reclamation.
The wind blows leaves, grass, and other organic debris onto the water surface where they sink to the deepest part of the pond. This area is known as a dead-zone. Beneficial bacteria which would normally break down the organic debris cannot live in this low-oxygen part of the water.
As such, sediment starts to accumulate over time. This, in turn, releases enormous quantities of nutrients which feed nuisance algae or weed growth. As time goes by, the sediment starts to accumulate until the entire pond has been turned into a smelly swamp.
Dredging avoids this by removing the nutrient-rich sediment that can lead to algae outbreaks and decreased water depths. The natural balance of the ecosystem is soon restored after a pond has been dredged.
---
How Dredging Works
A Dino6 dredge operator typically works from a floating platform equipped with a submersible boom. The operator lowers the boom assembly, on the end of which is an agitator and pump that's used to loosen sediment and safely transport it away. This process can be used to create new waterways, reopen old ones, mine for metals, maintain ecosystems, clean up trash and debris, restore shorelines and much more. In the video above, deposited sediment on the edge of a waterway is being removed.
In addition to the highly popular and versatile cutter-suction method of dredging, there are also plain-suction, auger-suction and jet-lift methods that work successfully in different circumstances to remove sediment.
Regardless of which method is employed, all dredging operations must be carried out in full compliance with any applicable local and federal laws and how they direct the safe disposal of dredged materials.
---
How Does Dredging Keep a Pond Healthy?
If your pond resides in an area that is prone to flooding, dredging can help prevent this by removing excess sediment. This can help protect against a catastrophic loss of plant and aquatic life in the event of a flood or heavy rain event.
Dredging can also help increase the size of the pond. As the mud, weeds, and trash are removed, the pond can now support more aquatic wildlife. This holds true for ponds that double as a fishing hole (such as an HOA pond). Removal of sediment will allow for a healthier ecosystem which in turn will support the well-being of the fish and aquatic life.
Property values will also be increased. Nobody likes a smelly, algae-ridden pond. The curb appeal of a house that has an ugly pond in the backyard isn't very good. By dredging your HOA pond, you'll find that local wildlife will return to the area and make it more beautiful.